Human resource (HR) department streamlining and employee experience improvement are constant corporate priorities in the dynamic field of Human Capital Management (HCM). The AI chatbot is one such game-changing tool that is gaining popularity; when combined with UKG Dimensions, it provides workers with new opportunities for autonomy and independence. In this piece, we'll look into the advantages of integrating CloudApper hrGPT with UKG Dimensions and examine the potential of AI powered HR chatbots to improve the employee experience.
Understanding the Power of AI Powered HR Chatbot's
AI chatbots are conversational virtual assistants that mimic human interaction through Artificial Intelligence (AI) and Natural Language Processing (NLP). These chatbots can process in-depth questions, deduce their users' intentions, and offer instant support. Organizations may improve employee engagement and productivity by enabling self-service options through the use of AI powered HR chatbots integrated with HR solutions like UKG Dimensions.
Introducing CloudApper hrGPT – The Empowering AI Chatbot
CloudApper hrGPT is a state-of-the-art AI powered HR chatbot solution that will modernize the HR department's interactions with its employees and enhance the functionality of UKG Dimensions. This chatbot excels at language, providing thoughtful responses in many contexts and participating in complex conversations with several participants. CloudApper hrGPT's capacity to provide personalized assistance, intelligent data, and automated HR procedures will make workers happier and more productive.
Enhancing Employee Experience with CloudApper hrGPT
Seamless HR Onboarding: The relevant information, corporate policies, and necessary documents are all made available to new hires with CloudApper hrGPT, streamlining the onboarding process. This allows new recruits to instantly feel at home, which is great for making a good first impression.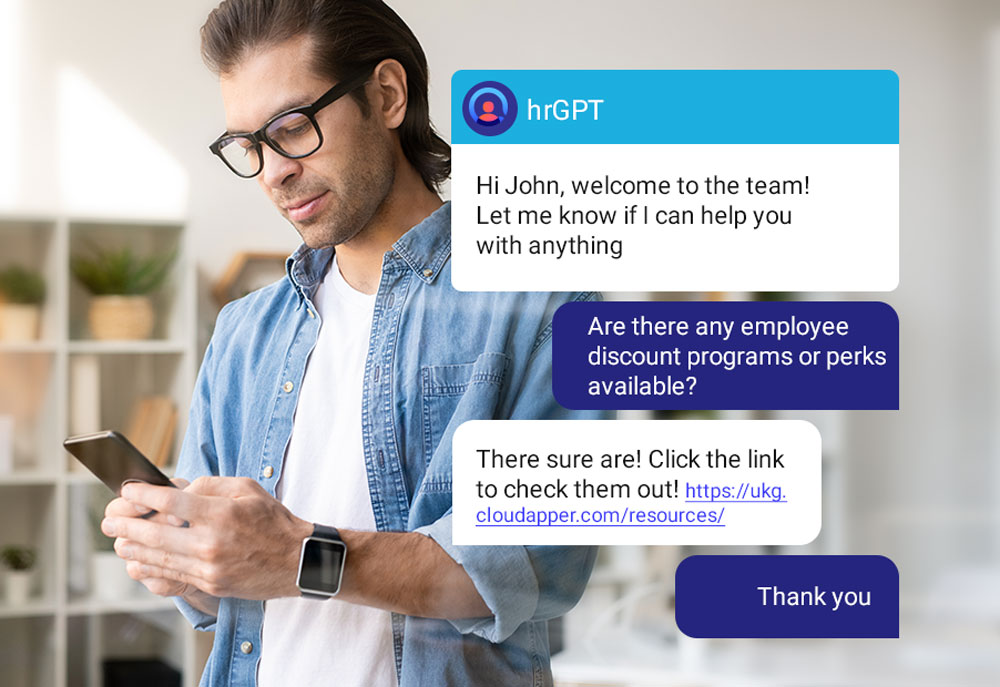 Instant Access to HR Information: Employees may quickly and easily ask questions about HR resources including benefits, regulations, and processes using a chat interface. Time and energy are saved by not having to manually look for information thanks to CloudApper hrGPT's real-time support.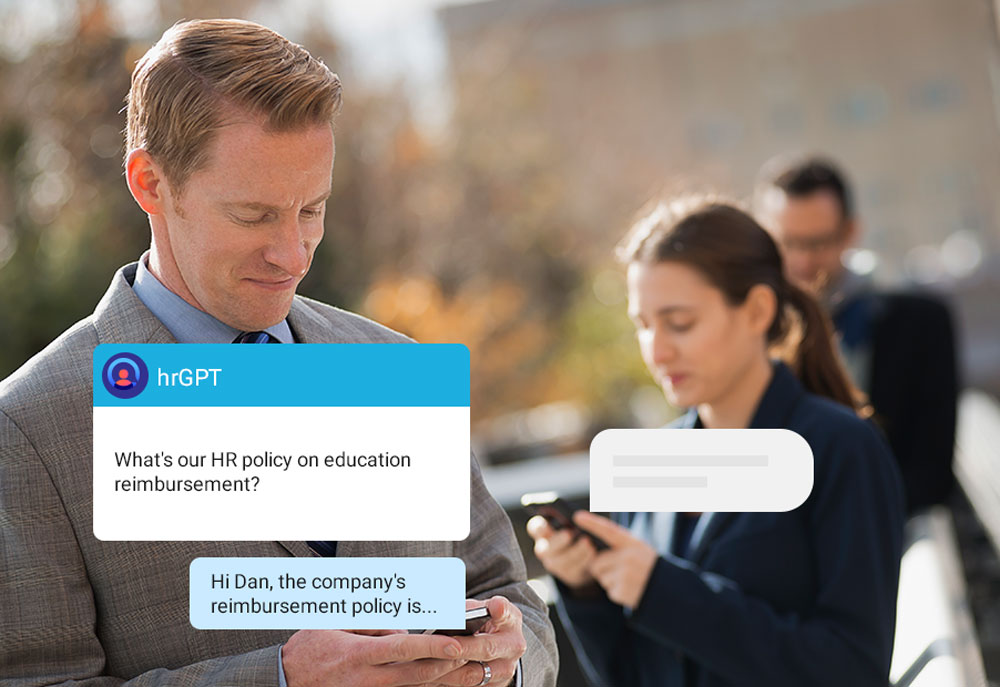 Time-Off and Leave Management: By centralizing leave requests, vacation balances, and status updates, CloudApper hrGPT simplifies the process of managing employees' time off. This makes the leave procedure more transparent and decreases the administrative strain on HR staff.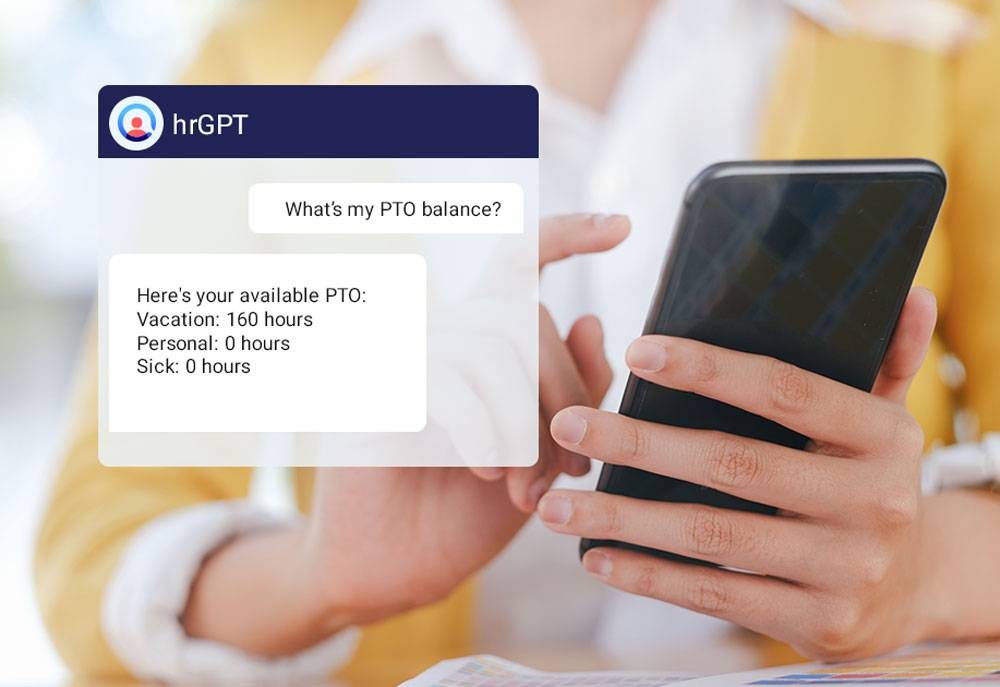 Employee Recognition and Rewards: Managers may use CloudApper hrGPT to keep tabs on their employees' progress toward goals and recognize and reward those who consistently exceed expectations. The result is a more appreciative and motivated workforce.
Resolving HR Queries: Whether it's about benefits enrollment, payroll questions, or corporate regulations, the AI powered HR chatbot has your back. CloudApper hrGPT improves staff morale by facilitating rapid and precise reaction.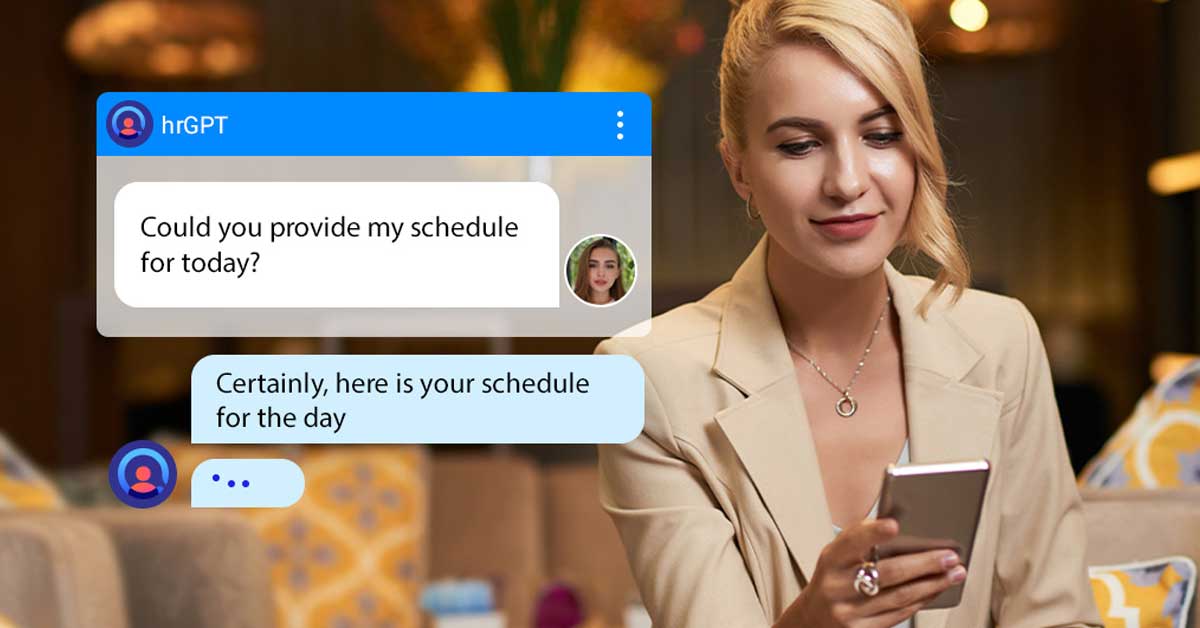 Benefits of CloudApper hrGPT Integration
Increased Employee Efficiency: CloudApper hrGPT streamlines mundane HR processes, freeing up staff to focus on higher-value work while cutting down on administrative burdens.
24/7 Support: CloudApper hrGPT is a virtual assistant driven by AI that is always on call, ready to assist workers whenever they need it.
Enhanced HR Productivity: CloudApper hrGPT allows HR professionals to focus on strategic goals and employee engagement by automating monotonous operations and addressing common HR questions.
Improved Data Insights: CloudApper hrGPT's integration with UKG Dimensions helps businesses to collect useful information about employees' interactions and preferences, resulting in better HR choices and practices.
Scalable and Cost-Effective: With its AI features, CloudApper hrGPT can grow with your company. Because of its low cost, it can do the work of several human resources assistants.
Conclusion
CloudApper hrGPT's partnership with UKG Dimensions will lead to a more engaged and fulfilled workforce. Personalized self-service options, instant support, and simplified HR procedures are just a few of the ways in which AI powered HR chatbots are transforming the employee experience. With its AI-powered capabilities, CloudApper hrGPT helps contemporary Human Capital Management departments increase employee effectiveness, HR productivity, and data insights. CloudApper hrGPT, which utilizes AI chatbots, may help your company achieve new heights in employee satisfaction.