Businesses that want to improve their workforce management must ensure that their employees' time is tracked accurately and that their time card data can be accessed easily. UKG Ready Time Clock have useful functions, but when UKG ready integrated with CloudApper AI Time Clock, employees can take control of their time card information like never before.. This article delves into how CloudApper AI Time Clock improves UKG Ready by giving workers greater control over their schedules and time off.
Enabling Employee Self-Service with CloudApper AI Time Clock
By providing employees with simple, automated self-service features, CloudApper AI Time Clock improves their overall experience with UKG Ready. When everything is connected, workers may do the following from the time clock:
Access Work Schedules and Timecards: CloudApper AI Time Clock allows workers to see their schedules and timecards, increasing transparency and giving people a sense of control over how they spend their time on the job.
Submit Shift Cover Requests: CloudApper AI Time Clock makes it simple for workers to put in requests to cover shifts, easing both the process of hiring replacements and keeping shifts covered.
Request PTO: Employees may submit requests for paid time off (PTO) using the time clock, eliminating the need for HR to handle these requests manually.
Check Accrual Balance: To better manage their time off, employees may quickly and easily view their accrual balances for vacation, sick leave, and other benefits.
CloudApper AI Time Clock's Benefits Compared to Conventional UKG Clocks
There are several ways in which the CloudApper AI Time Clock excels above conventional UKG timepieces.
Cost-effectiveness and adaptability: There is no need to shell out a ton of cash for proprietary hardware when you can use CloudApper AI Time Clock on any off the shelf Android or iOS tablet. Because of its adaptability, it helps firms save money while updating their time tracking systems.
Customizable Time Capture: CloudApper AI Time Clock's flexible settings make it easy to collect and report on employee time in a way that best suits your company. Accurate reporting and analysis will be possible with the addition of job transfer data, pay codes, or project codes.
Real-Time Data Exchange: CloudApper AI Time Clock's ability to seamlessly share data in real time with UKG Ready, means that attendance records are always accurate and up-to-date without the need for human intervention. This function cuts down on redundant paperwork and decreases input mistakes.
Enhanced Employee Engagement: CloudApper AI Time Clock increases employee engagement by providing employees with self-service choices, leading to a more responsible and invested staff.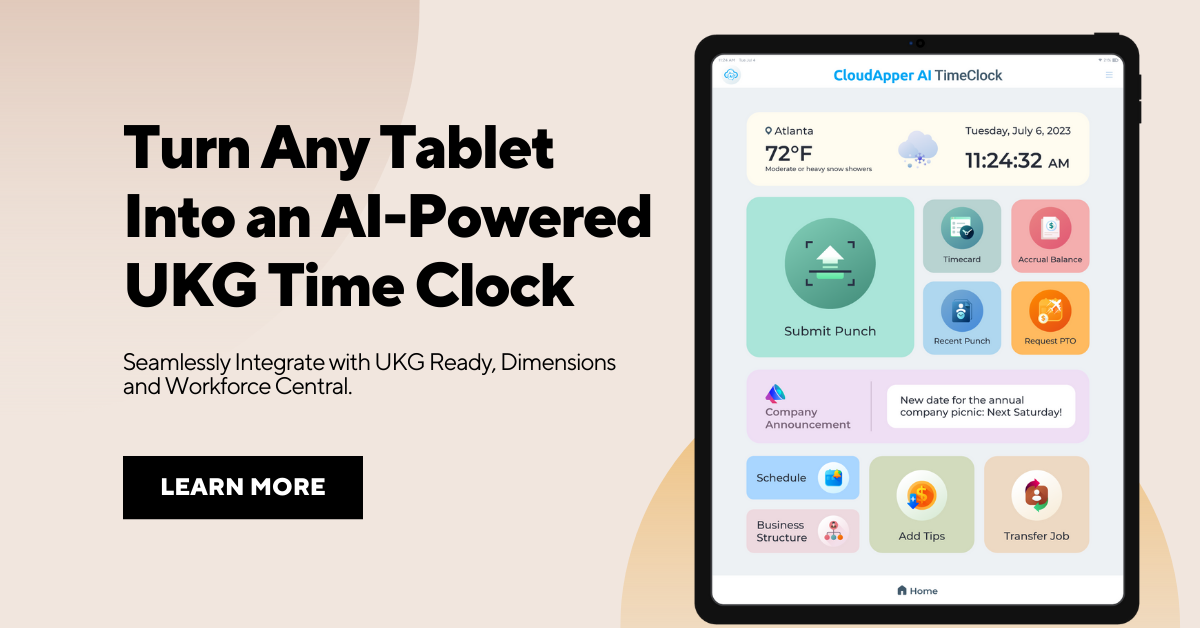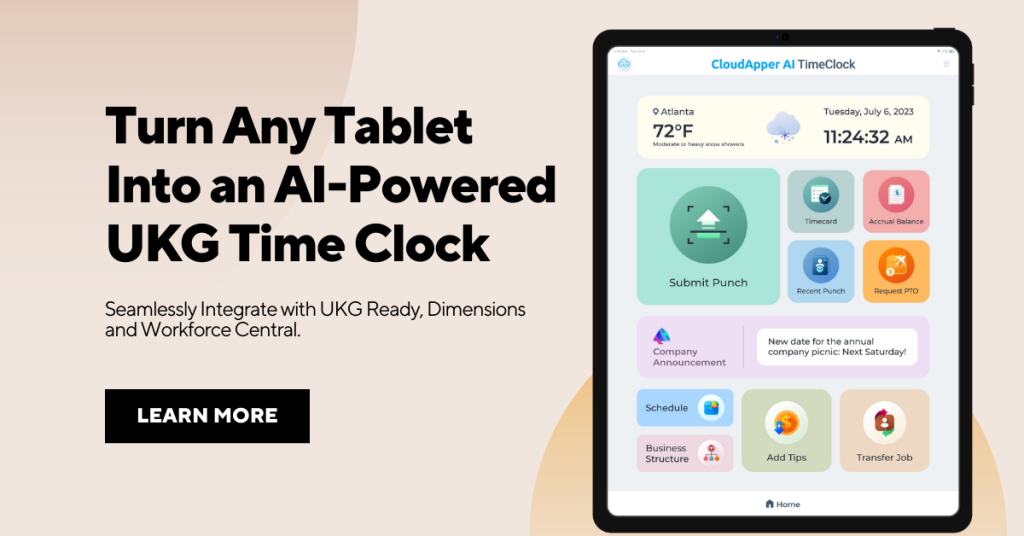 CloudApper AI Time Clock's integration with UKG Ready improves the time tracking process for both employees and HR departments. CloudApper AI Time Clock gives workers flexible self-service choices for managing shifts, requesting time off, and more. It's a better option than standard UKG time clocks since it can be adjusted to fit your needs and save you money. CloudApper AI Time Clock is the future of time monitoring and will help you better manage your staff. Learn how CloudApper AI Time Clock may improve employee participation and productivity.
Are you prepared to completely revamp how you keep track of time? Learn more about CloudApper AI Time Clock and how it can improve your UKG Ready experience now by clicking here.