Businesses of all sizes and in a wide range of fields need accurate time tracking systems. Many businesses are using QR/barcode punching systems to automate this procedure and reduce the need for manual data entry. This article will discuss how users of UKG Pro, Ready, and Dimensions customers may improve their time tracking process by adding QR/barcode punching features. We'll be recommending CloudApper AI Timeclock as a one-stop shop for QR/barcode punching integration with UKG/Kronos, along with handy extras like facial ID and NFC compatibility.
CloudApper AI Timeclock's Strength in QR/Barcode Punching
The CloudApper AI Timeclock is a flexible solution that may be used on any off-the-shelf inexpensive Android or iOS tablet. Customers of UKG Pro, Ready, and Dimensions may simply use QR/barcode punching without making costly hardware expenditures thanks to this adaptability. The QR or barcode on each employee may be scanned for time punching using the tablet's camera for quick updates to time card data. The optional face capture function in CloudApper AI Timeclock eliminates the possibility of buddy punching, further preserving the integrity of attendance data.
Simplified Punch Submission
CloudApper AI Timeclock uses QR/barcode scanning to streamline the time-punch submission procedure for employees. Scannable QR codes and barcodes allow workers to quickly and easily enter their work hour information without having to type it in by hand, thus minimizing the potential for human mistake. Automatic and real-time updating of punch data, without the need for time-consuming manual data transfers, is made possible by the seamless interaction with UKG Pro, Ready, and Dimensions software.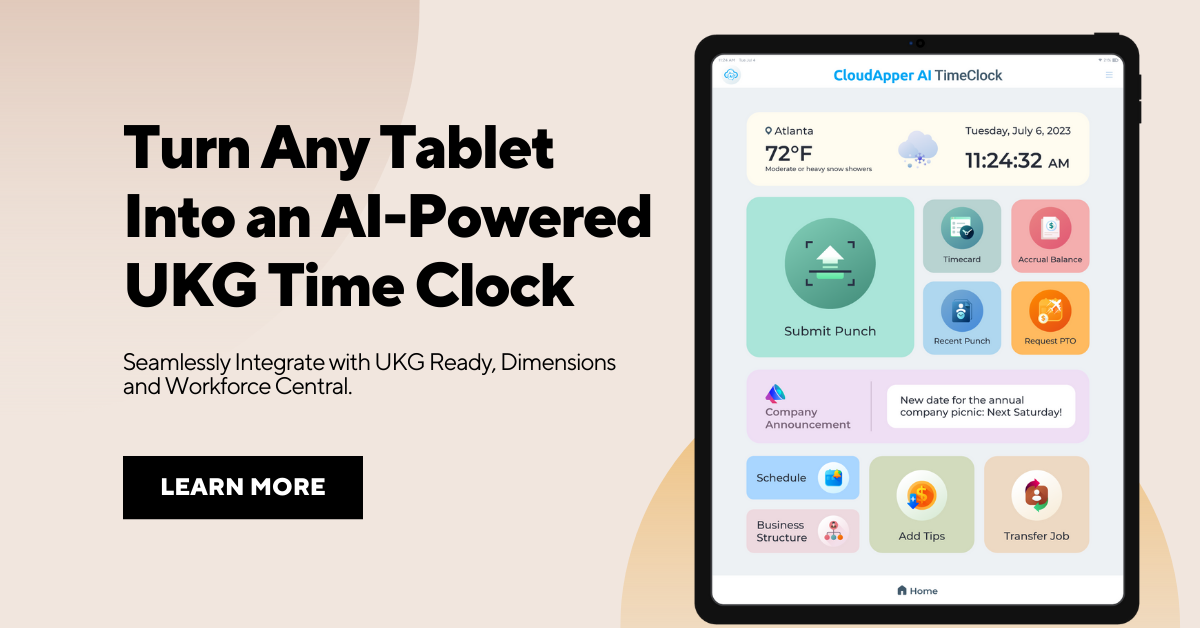 Flexible Methods for Recording Time
When it comes to timekeeping, every company is different. CloudApper AI Timeclock gives businesses the flexibility to tailor their time-tracking procedures to their own requirements. Simple system configuration allows for the inclusion of new fields for tracking information such job transfer information, pay codes, and project codes. This degree of personalization assures precise reporting and allows organizations to acquire useful information for analyzing and optimizing their workforces.
Integration of UKG Pro, Ready, and Dimensions for Seamless Data Transfer
CloudApper AI Timeclock's compatibility with UKG Pro, Ready, and Dimensions provides accurate and synchronized timekeeping through easy data sharing. CloudApper AI Timeclock users will have their UKG ecosystem timecard synchronize with their most recent punch data. This provides accurate and up-to-date attendance records by doing away with the need for manual data entry, which in turn cuts down on administrative costs.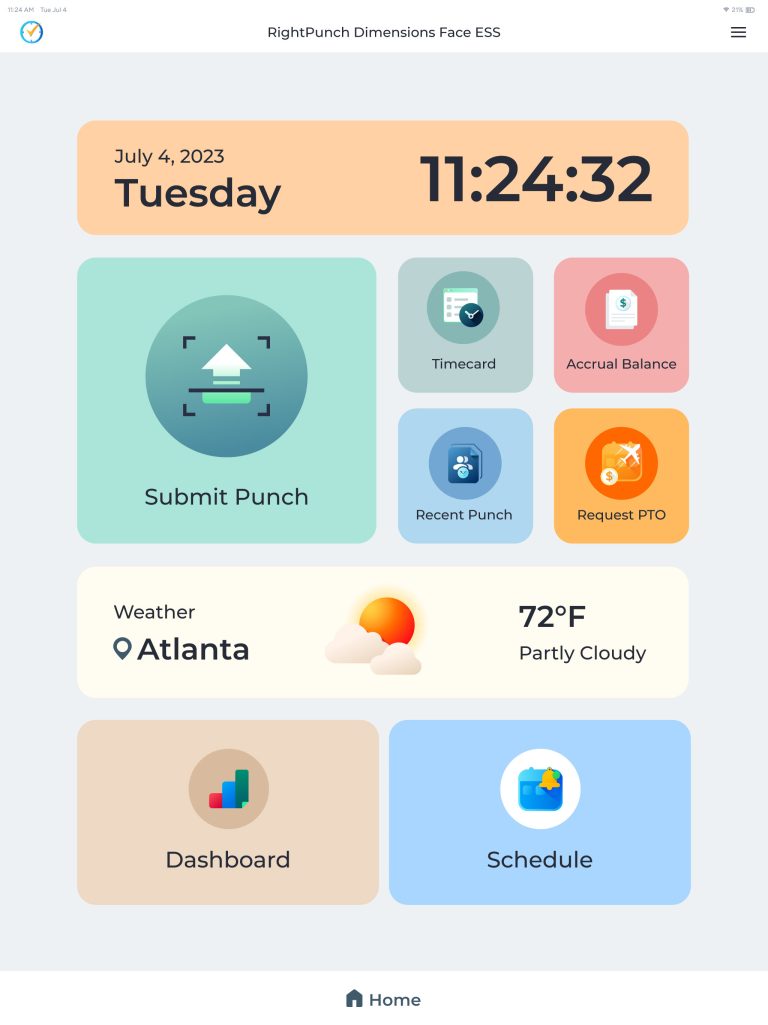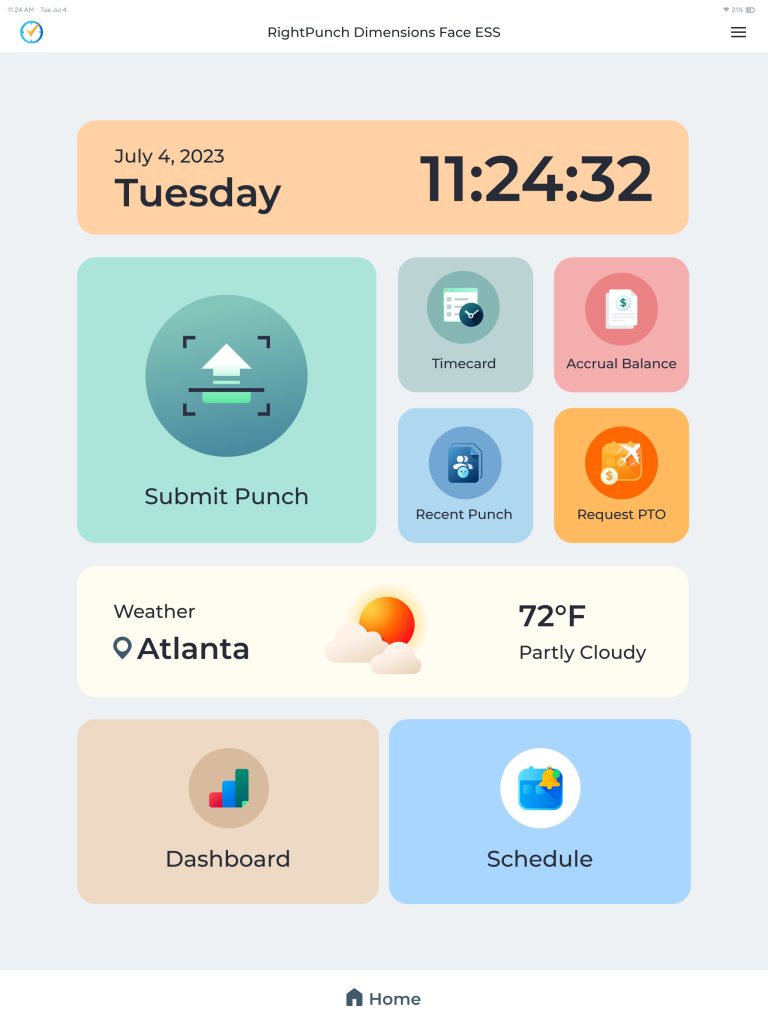 Improving Methods of Monitoring and Compliance
CloudApper AI Timeclock is more than just a time clock; it also records information about shift changes and compensation rates. This function enables reliable monitoring of staff actions and facilitates conformity with labor laws. In addition, attestation is supported by the solution, making it possible for enterprises to record electronic confirmations of compliance with labor and employment regulations. Employers may encourage a mindset of constant development and boost worker participation with the help of the customisable survey function.
Conclusion
Improve your company's time tracking, punch submission procedures, and general productivity by integrating QR/barcode punching with CloudApper AI Timeclock into your UKG Pro, Ready, or Dimensions TimeClock. CloudApper AI Timeclock is an inexpensive option for time and attendance tracking thanks to its ability to operate on commercially available tablets. It also features QR/barcode punching, facial ID, and NFC capabilities. Accurate data interchange and streamlined time monitoring are guaranteed by its compatibility with UKG Pro, Ready, and Dimensions. CloudApper AI Timeclock is the next-generation time-tracking solution your business needs to achieve peak performance.