Businesses in the modern economy are always on the lookout for new methods to improve efficiency and output. Time and attendance management is one area that has undergone radical change. As businesses adopt innovative solutions that use technology to provide smarter and more effective operations, conventional time clocks are gradually being phased out. For the UKG Pro, Ready, WFC, and Dimensions platforms, CloudApper AI TimeClock is in the front of this change, providing a novel approach to time tracking by converting tablets and iPads into intelligent TimeClock devices.
The Tablet Revolution: Changing the Face of Time Tracking
The days of using a cumbersome and restricted time clock gadget are over. Any tablet running iOS or Android can be transformed into a smart TimeClock with the help of CloudApper AI TimeClock, which does more than just record employees' clock-in and clock-out times; it also includes a number of other useful tools for streamlining HR processes. This shift is about more than just switching from analog to digital timekeeping; it's about adopting a holistic solution that improves precision, productivity, and morale.
Seamless Integration with UKG Platforms
CloudApper AI TimeClock's compatibility with the UKG Pro, Ready, WFC, and Dimensions platforms stands out among its other capabilities. This easy connection makes switching to this new time tracking tool a breeze. CloudApper AI TimeClock is compatible with the HR management platforms that businesses already use, giving executives peace of mind.
Cost Savings: A Key Driver for Adoption
Any successful business will place a premium on cutting costs. CloudApper AI TimeClock, which turns tablets like the iPad into smart TimeClocks, is an attractive and inexpensive alternative to conventional time clock systems. Businesses may save a lot of money on buying, leasing, and maintaining physical time clocks by switching to a system that doesn't require any specific hardware. In addition, CloudApper AI TimeClock's adaptable subscription model ensures continuous cost, making it a compelling option for businesses of all sizes.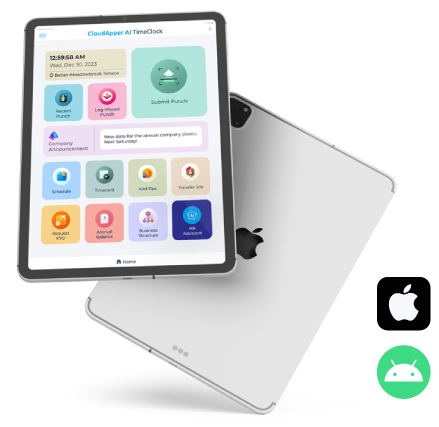 Empowering Employee Self-Service
When it comes to keeping tabs on time, CloudApper AI TimeClock isn't like other solutions. It's a major advancement in the realm of employee self-service. Face ID, PINs, barcodes/QR codes, and near field communication (NFC) make it simple for workers to clock in and out. Because of its ease of use, employees are able to manage their own time records, freeing up HR departments to concentrate on other strategic endeavors. The self-service options help provide a better experience for workers, which increases their enthusiasm and commitment.
Customization for Your Unique Needs
When it comes to human resources management, one size does not fit all. CloudApper AI TimeClock understands this, which is why it provides flexible settings to meet your unique needs. The system is flexible in terms of data fields, workflows, and reports, allowing you to tailor HR activities to meet the needs of your organization. Increased efficiency and responsiveness in the human resources department are two benefits of this granular degree of customisation.
Elevating Operational Efficiency
Successful companies always prioritize operational efficiency. CloudApper AI TimeClock is an automated timekeeping solution powered by artificial intelligence. Errors in traditional ways of monitoring time can result in inaccurate wage estimates, violations of compliance standards, and administrative hassles. CloudApper AI TimeClock uses cutting-edge AI technology to assure accurate time monitoring and automated calculations, negating the need for HR personnel to do these time-consuming yet error-prone operations manually.
Maximizing Return on Investment (ROI)
There are other benefits to using CloudApper AI TimeClock than only financial ones. As a result of its enhancements to HR management generally, your return on investment will increase. This approach has a cumulative effect, improving things like the employee experience, business efficiency, and compatibility with current UKG infrastructure. Decisions made by HR managers have a direct influence on the company's financial line, and CloudApper AI TimeClock shows you the way to success.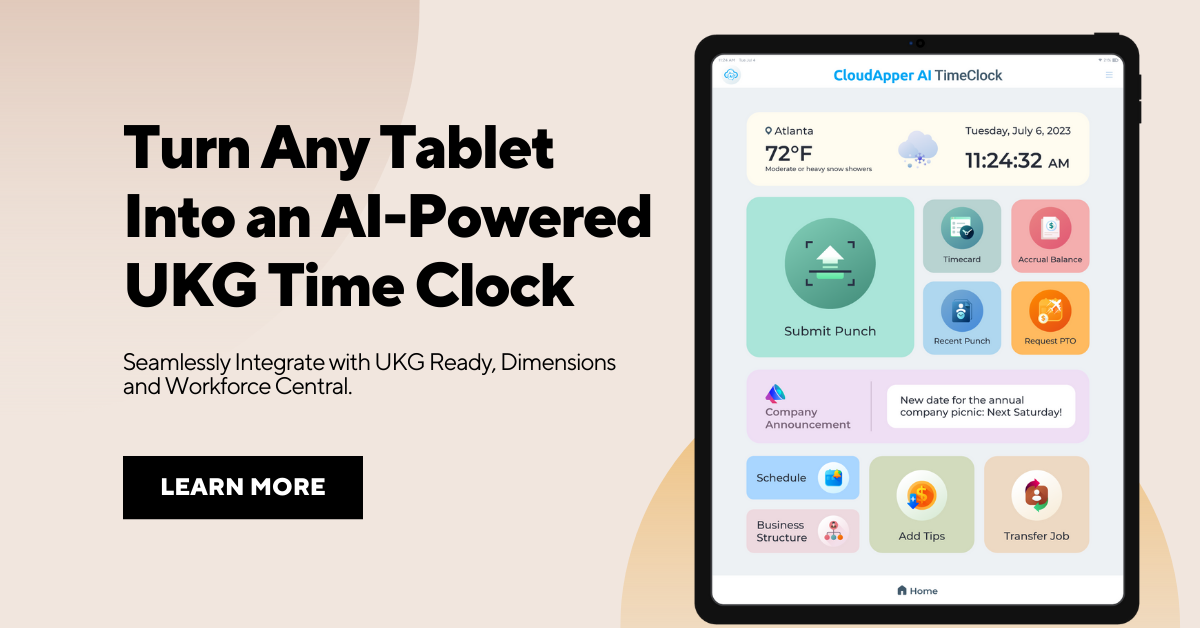 Embrace the Future of Time Tracking
Using iPads and other tablets as smart TimeClocks is more than simply a technology advancement; it's also a calculated business decision with far-reaching implications for the future of HR processes and the satisfaction of workers. The CloudApper AI TimeClock is a cutting-edge solution that meets your specific requirements while being compatible with UKG systems. If your company is looking to adapt to a rapidly changing business environment, CloudApper AI TimeClock is a turnkey solution that can help you get there. CloudApper AI TimeClock, the next generation in time monitoring, ushers in a golden age of productivity, precision, and employee buy-in.