Time management and attendance monitoring are more important than ever in today's fast-paced work world. A clock-in clock-out system's goals are to reduce administrative time, boost efficiency, and facilitate payroll. This post will discuss how to implement UKG timeclock (Ultimate Kronos Group), a prominent human capital management software, using an iPad/Tablet based clock-in clock-out system. In this article, we will examine the CloudApper AI Time Clock application in detail, highlighting its many advantageous features such as its device independence, portability, flexibility, different modes of time recording, integration possibilities, and low cost. The advantages of CloudApper AI for UKG's employee self-service will also be discussed.
Learning How to Use a Time Clock
A clock-in clock-out system is a computerized tool for keeping track of time spent at work. It is more accurate and efficient than using punch cards or paper timesheets, which it replaces. A clock-in clock-out system is crucial for UKG and other leading HCM solution users to increase productivity, streamline payroll, and keep track of employees' whereabouts. Manual time tracking techniques can be error-prone, time-consuming to administer, and obscure employees' attendance in real time. A clock-in clock-out solution allows businesses to see attendance records in detail on the UKG platform, automate the process, and reduce the likelihood of human mistake.
Apps for Timekeeping and Attendance Recording
The use of clock-in/clock-out applications has fundamentally changed the way UKG and other leading HCM solution users handle timekeeping for their staff. There are several advantages to using these applications, including greater accuracy, real-time attendance monitoring, and seamless interaction with payroll software. It's important to pick a timekeeping tool that works well with UKG and other leading HCM solutions when you need to track employees' arrivals and departures. This guarantees that the app's time data can be readily synced with the UKG platform, streamlining payroll processing and cutting down on unnecessary paperwork.
Workplace Time-Keeping Methods
Employees can choose from a number of time-keeping methods using today's clock-in clock-out systems. Punch cards and time clocks are being phased out in favor of more modern options. The reliability and ease of use of biometric scanners, mobile applications, and tablet-based solutions have led to their widespread adoption. Face recognition, PIN entry, barcode/QR code scanning, and near field communication (NFC) are just some of the ways in which employees may clock in and out with an iPad/Tablet based clock-in clock-out system. Employees are given many safe and easy methods for tracking their time.
Sign in and out with the CloudApper AI Time Clock
CloudApper AI Time Clock is a powerful software that facilitates the introduction of an iPad/Tablet based clock-in clock-out system for UKG and other leading HCM solutions such as Workday and ADP. There are several benefits to using this software instead of the fixed wall mounted time clocks. It eliminates the need for expensive hardware expenditures by allowing employees to use their own iPads or tablets for time monitoring. Because of the app's portability and adaptability, workers may punch in and out from anywhere, be it the workplace or a distant location. Having a mobile or dispersed staff, this is especially useful for.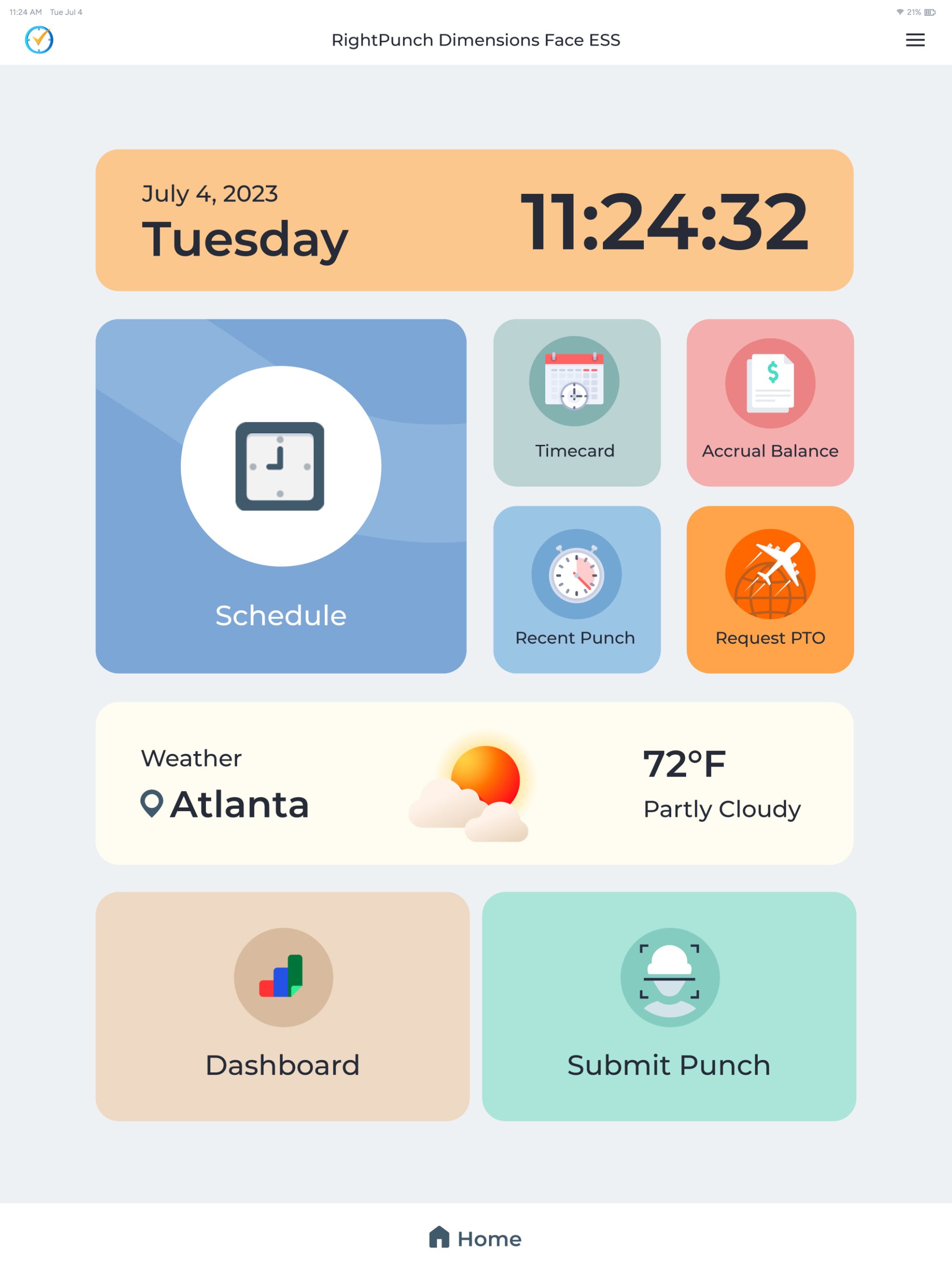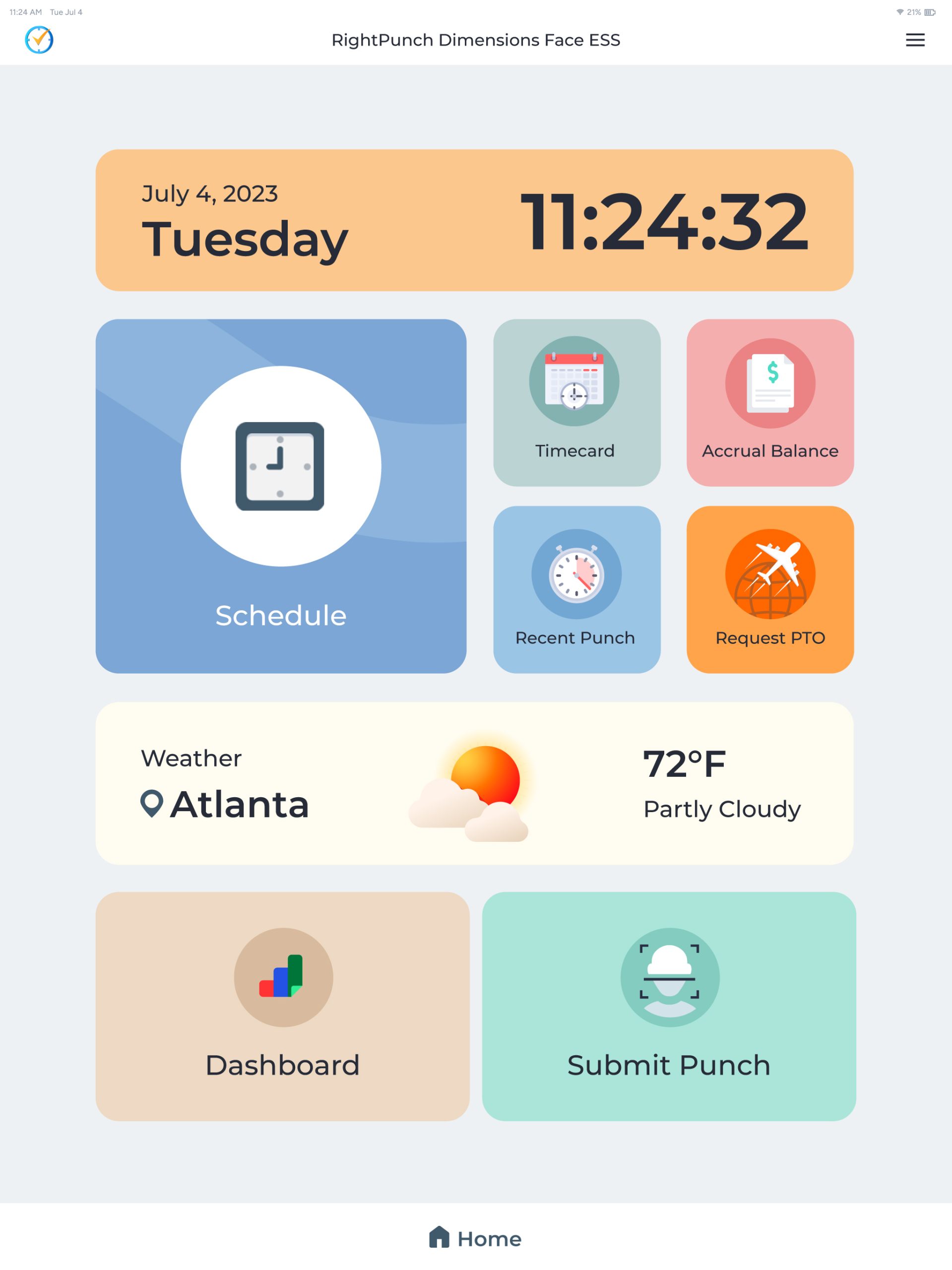 Depending on your settings and level of security, CloudApper AI Time Clock may record time in a number of different ways. Employees may be quickly and securely identified via facial recognition, while speed and convenience are provided with PIN entry. Scannable ID cards or badges with barcodes or QR codes make it simple to keep track of employees' time, while NFC technology makes it possible to clock in and out without any interruptions.
CloudApper AI Time Clock also has the added benefit of being easy to integrate. Time data gathered through the app is instantly synced with the UKG platform, doing away with the need for manual data entry and assuring precise payroll processing. The time and effort spent on time and attendance tracking and management is greatly reduced as a result of this integration.
CloudApper's AI Time Clock Allows Employees to Request Time Off on Their Own for UKG
The features of CloudApper AI Time Clock are not limited to simple timekeeping. It has self-service options that let workers handle their own timekeeping. Employees may check their schedules, timecards, accrual balances, and most recent punches all in one convenient place with the app. Employees no longer have to use paper forms or intermediaries to seek time off, submit tips, or get coverage for their shifts. This self-service feature improves employee involvement, cuts down on paperwork, and streamlines HR operations.
Conclusion
Organizations may reap several benefits by adopting a clock-in/clock-out system based on iPads/Tablets running the CloudApper AI Time Clock software for UKG. When compared to more archaic systems like punch cards or wall mounted fixed time clocks for UKG, its device independence, mobility, flexibility, many modalities of time collection, integration possibilities, and cost-effectiveness make it a clear winner. The ability to sync up without any hitches with UKG means that payroll will always be processed correctly without the need for any human intervention. In addition, the self-service options provide workers more control over their own timekeeping, which boosts morale and efficiency in HR operations. Take advantage of CloudApper AI Time Clock for UKG and completely revamp your methods of managing employee time and attendance.