Successful workforce management in today's fast-paced, ever-changing workplace relies heavily on accurate time monitoring and management. Human resources decision makers know that effective management of employee time, especially overtime and comp time, is critical to maintaining a happy and productive workforce. The needs of organizations are always changing, and so do the requirements for managing employees' time. Instead, cutting-edge and all-encompassing solutions like CloudApper AI TimeClock for UKG are revolutionizing HR with benefits like less overhead and happier workers.
Understanding Extended Work Time and Comp Time Benefits
When employees put in more time at work beyond their scheduled shifts, they are said to have worked overtime. This may occur because of a rise in tasks, a rush to meet a deadline, or a shift in the time of year. However, many firms reward their employees with comp time in exchange for working overtime. Employees earn paid time off that can be used for personal purposes instead of earning a cash bonus for working overtime. Both employee happiness and adherence to labor regulations depend on how well these factors are managed.
Challenges of Traditional Time Tracking
Extended work hours and comp time benefits might be difficult to manage with traditional time tracking systems like paper-based methods or old proprietary time clocks. It is difficult to keep accurate records of extra hours using these approaches since they are time-consuming and prone to mistakes. Employees may become dissatisfied, disagreements may arise, and legal issues may arise as a result. Delays in granting comp time due to a lack of real-time tracking and accessibility can have a further negative impact on morale.
Enter CloudApper AI TimeClock: A Modern Solution
The CloudApper AI TimeClock is a game-changing tool for handling the intricacies of timekeeping, such as compensatory time and overtime. With this cutting-edge application, HR decision-makers have access to a single and intuitive platform for managing their workforce, and it works in tandem with all UKG HCM systems, including Pro, Ready, and Dimensions.
Let's look at how the CloudApper AI TimeClock overcomes these difficulties while also providing several advantages.
Real-Time Tracking and Reporting
CloudApper AI TimeClock's capacity to enable real-time tracking of employee hours, including overtime, stands out among the product's other notable capabilities. No more expensive and complicated time clock hardware is needed thanks to employees being able to use their own iOS or Android tablets to clock in and out. This not only makes time monitoring easier, but it also guarantees accurate data, which lessens the possibility of mistakes and disagreements.
Accurate Comp Time Management
Comp time administration has never been simpler. The CloudApper AI TimeClock facilitates real-time tracking and recording of compensatory time accrual and usage for human resource departments. This allows workers to see their accumulated comp time at any moment, which fosters open communication and confidence in the company. There is no longer any need to track down HR for compensation time data or perform computations manually.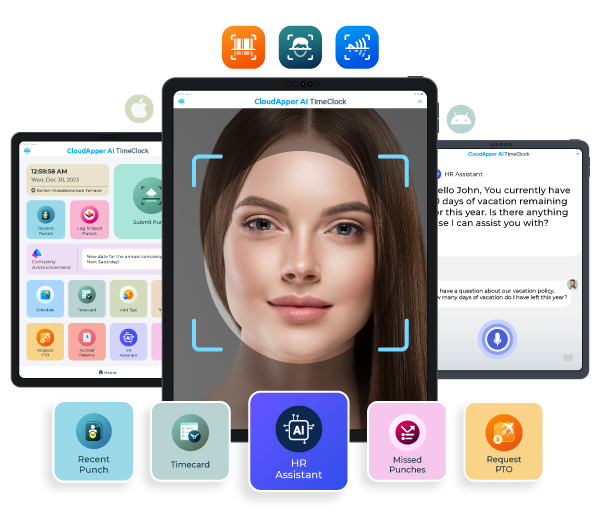 Streamlined Approval Workflows
The approval procedure for overtime and compensation time is streamlined with CloudApper AI TimeClock. Through a straightforward interface, supervisors can easily examine and approve requests for compensatory time and overtime. This expedites the approval process, cuts down on paperwork, and rewards hardworking staff promptly.
Cost Savings and Efficiency
The ability to save money is a major benefit of using CloudApper AI TimeClock. Common hardware, upkeep, and installation fees for conventional timekeeping systems add up quickly. Instead of having to pay for expensive up-front costs or leases, CloudApper AI TimeClock provides a low-priced monthly subscription option. Because of this, companies of all sizes may take use of it to better manage their resources.
Employee Empowerment and Satisfaction
CloudApper AI TimeClock was built with the goal of giving employees more autonomy. Employees may easily view their own timesheets, comp time balances, and vacation requests using the system's self-service tools. This empowers them and lessens their reliance on HR for questions of a more general nature. Employees are more invested, content, and well-informed about their schedules and perks as a consequence.
AI Assistant for HR Service Delivery
Further, CloudApper AI TimeClock delivers an AI assistant that automates the provision of HR services. If an employee has a query about business policy, perks, or compliance, they may obtain an immediate response. This not only increases the happiness of workers, but it also frees up HR experts to concentrate on more important tasks.
Conclusion
CloudApper AI TimeClock for UKG is a modern and comprehensive solution that transforms how organizations manage extended work time and comp time benefits. By providing real-time tracking, accurate comp time management, streamlined approval workflows, cost savings, and employee empowerment, it enhances the employee experience and boosts overall organizational efficiency.
HR decision-makers looking to improve their workforce management processes and employee satisfaction should consider adopting CloudApper AI TimeClock. Its compatibility with all UKG HCM solutions ensures a seamless transition, while its user-friendly interface and advanced features make it a valuable asset for any organization.
In today's fast-paced business environment, staying ahead requires embracing innovative solutions like CloudApper AI TimeClock. Make the shift towards more efficient and employee-centric workforce management by adopting this cutting-edge tool. It's not just a cost-saving measure; it's an investment in the future success of your organization.