Human capital management (HCM) is essential to any company's success in today's fast-paced commercial climate. To improve productivity, employee engagement, and general efficiency, businesses must simplify their workforce and HR processes. Here's where CloudApper hrGPT comes in; it's an innovative HCM automation solution that works in tandem with UKG Pro to completely revamp your HR operations. In this post, we'll take a look at how CloudApper hrGPT may be altered to automate a great variety of workforce and HR tasks, resulting in a consistent and interesting experience for employees across all of the most important channels of contact.
Understanding CloudApper hrGPT
CloudApper hrGPT is an intelligent HCM automation platform that revolutionizes the way businesses handle their human resource operations. hrGPT uses AI to simplify and expedite employee interactions with the HR system, allowing them to find the information they need and take the appropriate actions without becoming lost or requiring continual support. It improves HR procedures by automating them, making them more efficient, and encouraging employee participation. This frees up HR professionals to focus on more high-level, strategic work.
Seamless Integration with UKG Pro
The addition of CloudApper hrGPT to your current HCM infrastructure is ideal because of its compatibility with UKG Pro. Benefit from both CloudApper hrGPT's cutting-edge AI-driven features and UKG Pro's powerful functionality by utilizing this integration. By removing the need for manual data entry and minimizing the likelihood of mistakes, the integration guarantees that your data is always correct and up-to-date in real-time.
Customizing Automation for Your Needs
CloudApper hrGPT's adaptability in the face of individualization in automated processes is one of its most notable qualities. Timekeeping, vacation planning, employee onboarding, and performance reviews are just some of the HR processes that may be automated using hrGPT. When you hire us, we put in the time and effort to learn about your business so that we can create unique workflows that serve your needs and those of your company.
Time Tracking and Attendance Management: Stop keeping track of time and employees manually. CloudApper hrGPT streamlines and automates the whole procedure, recording employee punches, determining work hours, and guaranteeing the integrity of time sheets. Face recognition, PIN codes, and near field communication (NFC) are just a few of the convenient ways in which employees and management alike may clock in and out.
Leave Management: The automated leave management solution in CloudApper hrGPT streamlines the leave request and approval processes. Employees may request time off, check their leave balance, and find out whether or not their requests have been approved. Human resources professionals can easily keep track of employees' leave balances and schedules.
Employee Onboarding: hrGPT's automated workflow features can help speed up the onboarding process. An intuitive interface makes it easy for new workers to submit required paperwork, review business regulations, and carry out orientation duties. Human resources departments benefit from this since it streamlines the onboarding process for new hires.
Performance Evaluations: Use hrGPT's AI-powered survey functionality to streamline performance reviews and feedback gathering. Human resource managers are able to get immediate input from staff members by using individualized performance review forms. Decisions on how to best support and motivate workers can be informed by this information.
Employee Self-Service: Through hrGPT, you can give your employees more independence. SMS, email, push notifications, Slack, Mattermost, and WhatsApp are just some of the mobile communication channels that allow employees to access HR information, examine schedules, check time-off balances, and submit requests for time off.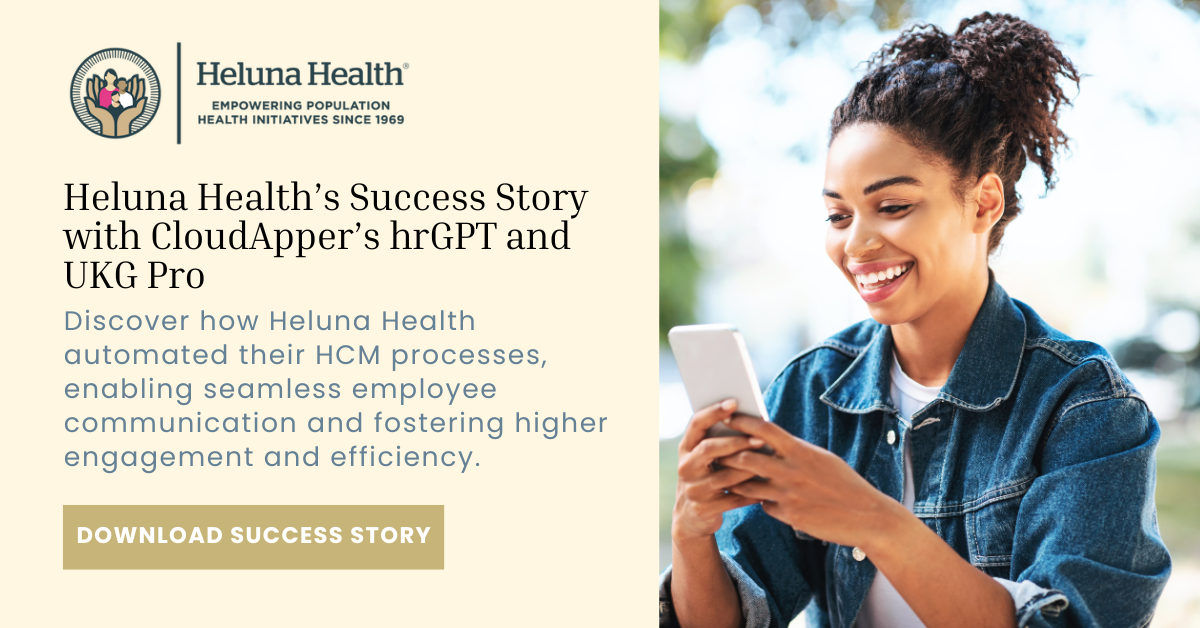 Enhancing Employee Experience and Engagement
By providing a straightforward interface and self-service options, CloudApper hrGPT improves the experience and engagement of the workforce as a whole. Staff members may quickly and easily access key HR features, simplifying their interactions with HR and minimizing the need for continual support. As a consequence, employees are happier in their jobs, which boosts productivity and decreases attrition.
Conclusion
CloudApper hrGPT is the next generation of HCM automation because of its ability to be seamlessly integrated with UKG Pro and to have automation processes tailored to your specific requirements. CloudApper hrGPT improves productivity, morale, and retention by automating HR and workforce procedures. Since the platform is compatible with all popular methods of contact, working conditions are improved and employee satisfaction is raised. CloudApper hrGPT allows you to revolutionize your HR procedures and propel your company's HCM to new heights.