Workforce management and human capital management (HCM) technologies have improved with the advancement of technology. The TouchBase Web Clock is one such gadget that has been useful for many years. The passage of time, however, has brought about the necessity of putting some clock devices into retirement. TouchBase Gen4 Clock (UTB1xxx or starting with T1S0), TouchBase Gen5 Clock (UTB2xxx), TimeBase Clock, and TouchBase Web Clock are all examples of such devices. Since these devices are no longer available, businesses are searching for a replacement that will allow them to improve their timekeeping and human resource management (HCM) procedures. This article will discuss how the CloudApper AI Time Clock – an iPad/Tablet based time clock for UKG may help businesses adapt to the future. We will also highlighting its advantages over the current UKG InTouch and InTouch DX Time Clocks.
The End of an Era: Retirement of UKG TouchBase Web Clock and Related Devices
Numerous businesses have relied on the TouchBase Web Clock and its ancillary devices, the TouchBase Gen4 and Gen5 Clocks, and the TimeBase Clock. UKG has opted to phase out the TouchBase Web Clock devices and software in favor of more modern alternatives due to technological advancements and the need for increased productivity. Because of this, businesses who previously used these tools to track employees' clock ins and outs are now looking for a more up-to-date, functional, and affordable replacement.
Introducing CloudApper AI Time Clock: The Future of Time Tracking
Using cutting-edge AI technology, CloudApper AI Time Clock revolutionizes how businesses track and manage employee time and attendance. CloudApper AI Time Clock is a better alternative to the TouchBase Web Clock and the more recent UKG InTouch or InTouch DX Time Clock due to its extensive feature set, device independentness, easy integration possibilities, and unequaled customization choices.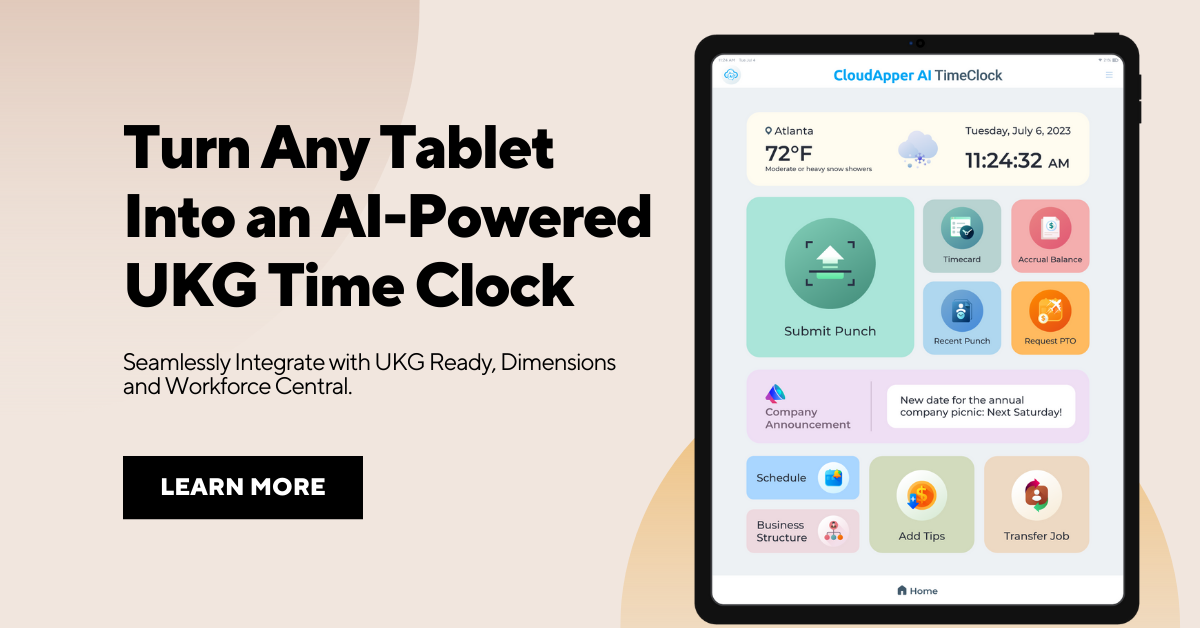 Why Choose CloudApper AI Time Clock?
Powered by state-of-the-art AI technology, CloudApper AI Time Clock outperforms conventional timekeeping methods in terms of precision, efficiency, and dependability. It eliminates the need for expensive time clock devices, manual punch mechanisms because of its facial recognition, QR/barcode scanning, and NFC functions.
Seamless Integration with UKG and Other HCM Platforms: CloudApper AI Time Clock can be easily integrated with current UKG solutions and other HCM platforms, unlike any other proprietary time clocks. By removing the need for PIN/Barocode/QR code entry and thereby increasing accuracy, this seamless interface guarantees that all data is always up to date in real time.
Cost-Effective Solution: In comparison to InTouch and InTouch DX Time Clocks, the CloudApper AI Time Clock is more affordable. It may be used on standard Android and iOS tablets rather than costly and cumbersome timekeeping devices.
Customizable Workflows: CloudApper AI Time Clock offers exceptional adaptability, letting businesses tailor processes to meet their specific needs. Easy customization allows for the implementation of company-specific notificaion, time off rules, shift swap requests, and employee self-service facilities.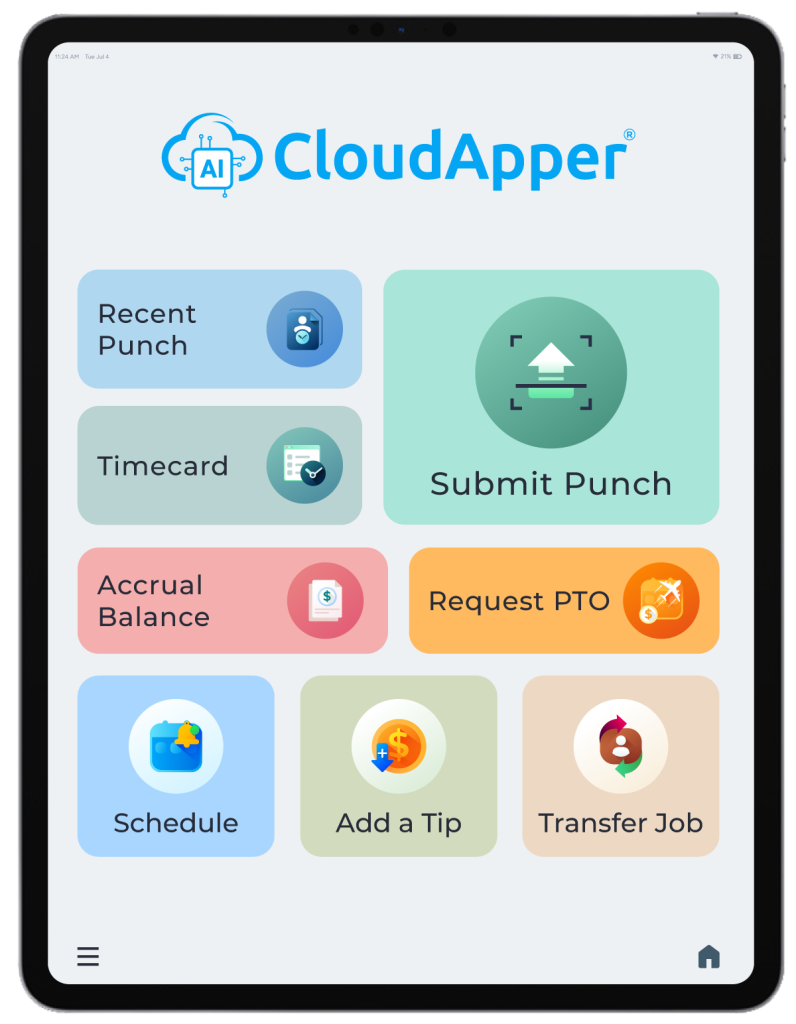 User-Friendly Interface: CloudApper AI Time Clock's user interface is straightforward, so employees can punch in and out fast. Employees will be able to adjust quickly and easily because of the minimum learning curve provided by this user-friendly interface.
Enhanced Security and Compliance: Compliance and security are top concerns for CloudApper AI Time Clock. Only authorized employees will be able to use the clock thanks to its face recognition and dual identification capabilities, which prevent time theft and identity fraud. It also helps with attestation by making it possible to digitally record employee contracts in accordance with applicable labor laws and regulations.
Final Words
The TouchBase Web Clock's (and similar devices') impending obsolescence signals a sea change in corporate attitudes toward upgrading to more modern options. If your company is looking to improve its timekeeping, employee attendance records, and human resources operations, CloudApper AI Time Clock is a fantastic option to consider. CloudApper AI Time Clock equips businesses with the means to improve efficiency, accuracy, and productivity thanks to its AI-powered technology, easy integration possibilities, and user-friendly interface.
CloudApper AI Time Clock is the obvious solution for firms concerned with future-proofing their HR systems. As a result, businesses will be able to usher in a new age of cutting-edge time tracking and HCM automation, setting themselves up for future success in an increasingly competitive market.