Companies in the modern digital era are always on the lookout for new and improved methods of staff management and time monitoring. The UKG/Kronos Intouch time clock has been a popular option, but what if there was a solution with even greater flexibility? CloudApper AI Timeclock is a robust and adaptable time-tracking solution that can be mounted to any desktop using a standard tablet stand or tripod. This article examines the features and benefits of CloudApper AI Timeclock as a viable alternative to the conventional wall-mounted Intouch time clock.
Overcoming Challenges With Wall-Mounted Time Clock Solutions
UKG customers who need a countertop-mounted time clock may struggle to locate an off-the-shelf alternative to the wall-mounted InTouch 4500/9100. Desktop-mounted time clocks are sometimes needed. This article will examine why UKG customers may need a desktop-mounted InTouch time clock replacement and the available off-the-shelf alternatives.
Flexibility in Time Clock Placement: Desktop-mounted time clocks allow for tabletop placement when wall mounting is not possible owing to space or construction restrictions.
Accessibility and Ergonomics: Desktop-mounted time clocks are easier to use and safer.
Off-the-Shelf Solutions: Adjustable tablet stands, tripods, or specialized hardware can offer solid desktop mounting platforms.
The Desktop-Mounted Alternative to UKG/Kronos InTouch Time Clock
Need an InTouch time clock substitute that can be operated from the comfort of a desktop? Try CloudApper AI Timeclock. CloudApper AI Timeclock provides UKG users with a desktop-mounted option. Desktop time clocks provide versatility and convenience over wall-mounted ones. This post will discuss CloudApper AI Timeclock as a desktop based alternative time clock a UKG Intouch.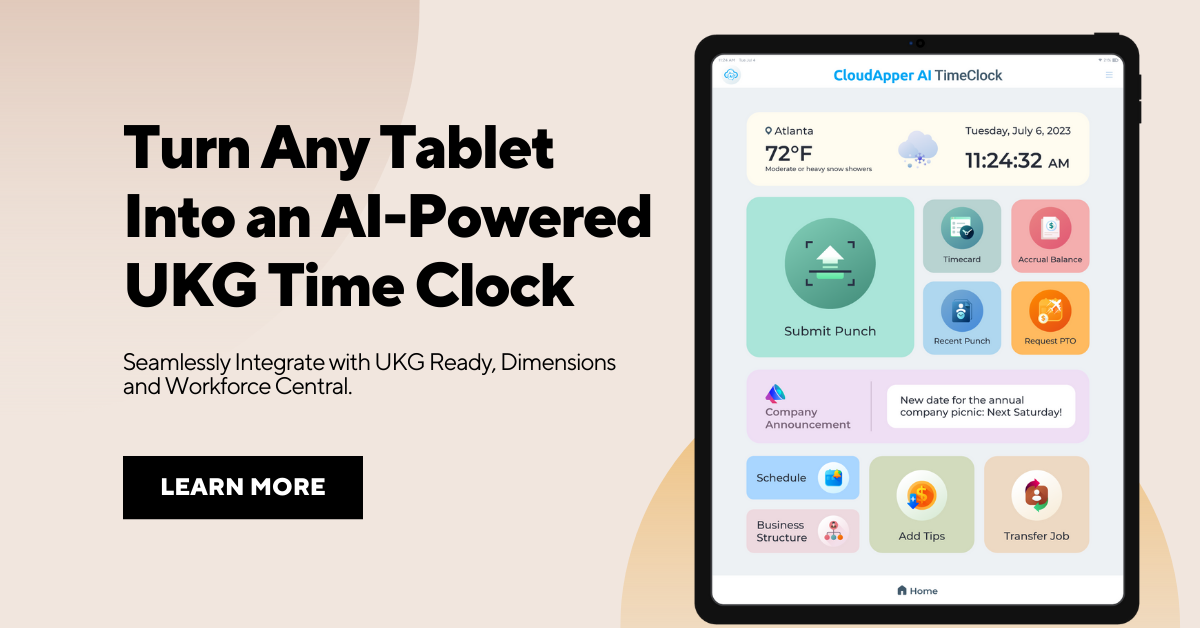 Enhancing Accuracy and Convenience with Time Capture
CloudApper AI Timeclock's ability to transform any iPad or tablet into a completely functional time clock is one of its key features. With face ID, QR codes, barcodes, and NFC, employees can simply submit their punches, ensuring accurate and effective time monitoring. CloudApper AI Timeclock's convenience and adaptability are enhanced by the capability to tailor the time capture process to specific business needs. In addition, the seamless data transmission between CloudApper AI Timeclock and UKG/Kronos software ensures accurate and current time records without the need for manual data entry.
Employee Self Service: Empowering Employees
CloudApper AI Timeclock surpasses conventional time-tracking capabilities by providing employees with self-service options. With this solution, employees can easily submit shift cover requests, request paid time off (PTO), access their work schedules and timecards, and view their accrual balances for vacation, medical leave, and other benefits. By providing employees with self-service options directly from the timeclock, CloudApper AI Timeclock fosters a sense of ownership and engagement, thereby reducing the administrative burden on HR teams and promoting a more efficient workforce management process.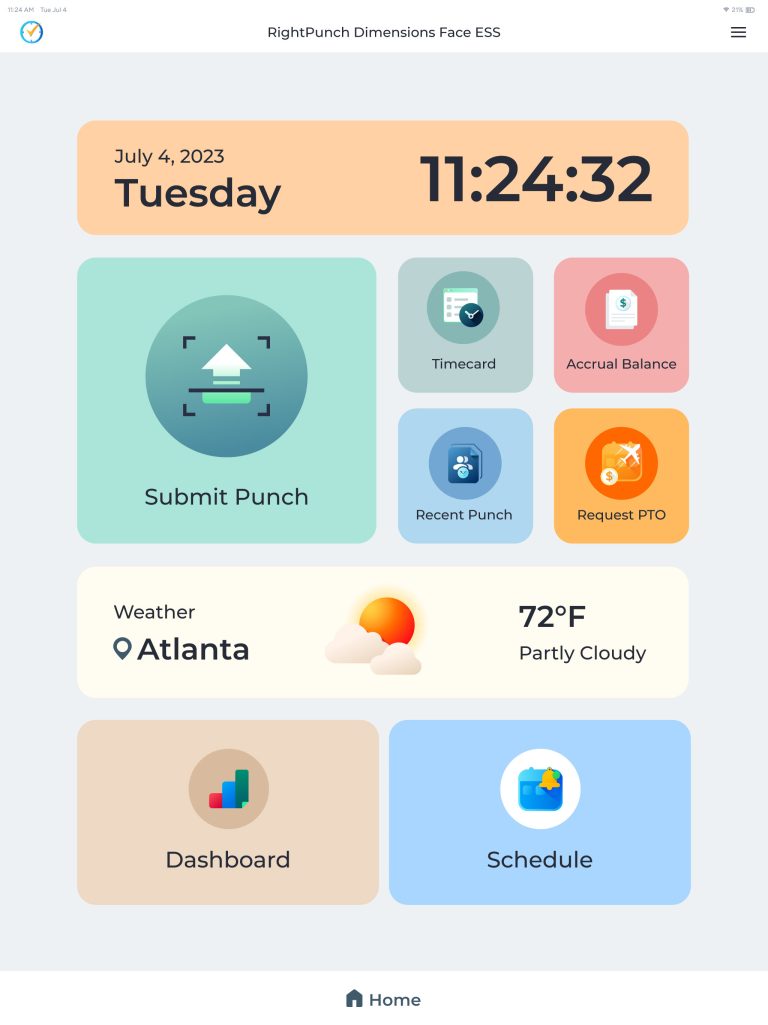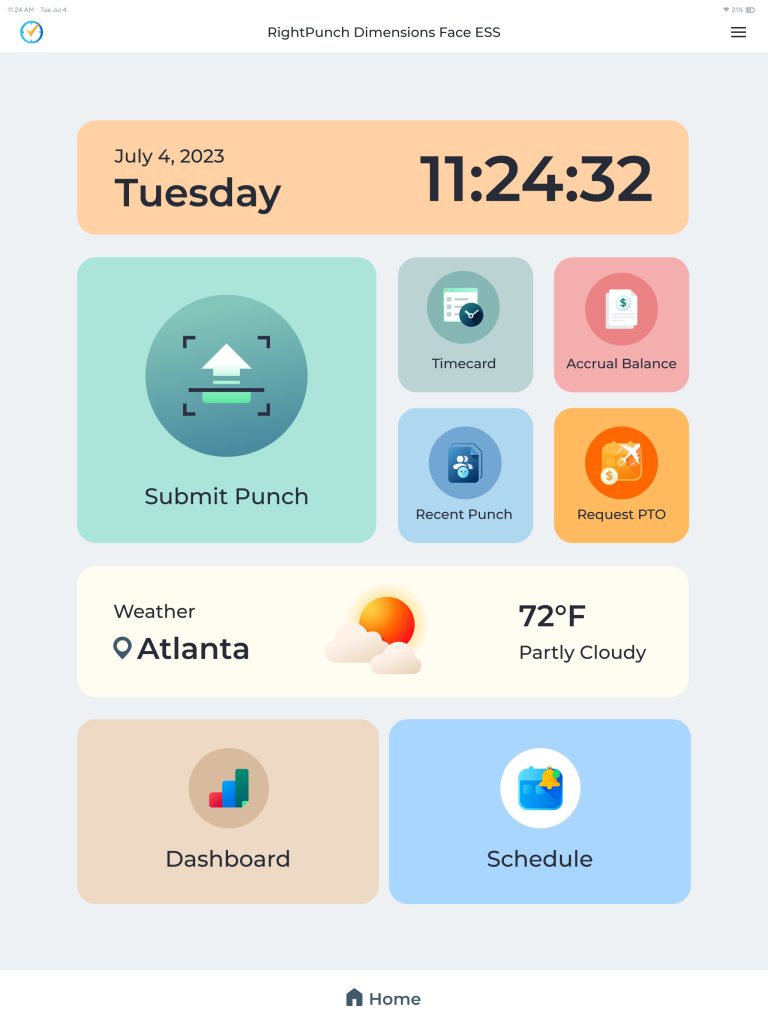 Data Capture: Compliance and Feedback
The CloudApper AI Timeclock is designed to collect vital information beyond just clock-in and clock-out times. It facilitates the recording of job transfer and pay code information, ensuring accurate employee activity monitoring and facilitating compliance with labor laws and regulations. In addition, the solution enables the collection of employee gratuity data, thereby improving compliance with tipping regulations in industries where tips are common. In addition, CloudApper AI Timeclock supports attestation, providing a means to comply with employment and labor laws by electronically capturing employee acknowledgments and agreements. The feature of customizable questionnaires allows businesses to collect valuable employee feedback, ensuring continuous improvement and a deeper comprehension of employee sentiments.
Conclusion
CloudApper AI Timeclock is a fully capable and adaptable alternative to the conventional wall-mounted Intouch time clock, providing businesses with improved accuracy, convenience, self-service capabilities, and compliance features. By leveraging the customizable time capture methods, self-service functionalities, and data capture capabilities of CloudApper AI Timeclock, businesses can expedite workforce management processes, increase employee engagement, and ensure compliance with labor laws. With the ability to mount CloudApper AI Timeclock on any desktop using a standard tablet stand or tripod, businesses can leverage the power of this innovative solution to improve time-tracking processes and overall workforce management efficiency.
Discover the Power of the CloudApper AI Timeclock Today and Transform Your Workforce Management!