Time is of the essence in the human resources and personnel management fields. When employees have various positions within an organization, reconciling their time records may be a particularly time-consuming and difficult chore for managers at any size of firm. This might cause HR workers to be stressed out and overwhelmed by errors and delays. But now there's a new player on the block: CloudApper AI TimeClock. In this article, we'll take a closer look at how this cutting-edge technology may streamline the time tracking process for employees who juggle various roles, saving you time and money and improving the satisfaction of your workforce.
The Payroll Reconciliation Challenge
Keeping track of employees' time and calculating their compensation when they perform several roles inside the company may be a difficult task. They could split their time between two departments, take on freelancing work, or operate as a contractor for you. It's difficult to keep track of their hours and pay them properly. This presents a number of difficulties.
Increased Administrative Burden: When dealing with many responsibilities, the HR team's administrative effort increases significantly. It's a hassle and a potential source of mistakes to have to compare time spent in different roles.
Errors and Discrepancies: Errors and anomalies in paychecks are commonplace due to manual data entry and computations. This may be pricey in terms of both money and the trust of your staff.
Delayed Payroll Processing: Employees who depend on timely and accurate payments are likely to be dissatisfied if payroll processing takes too long.
Compliance Risks: Compliance with labor laws and regulations depends on accurate time monitoring. Legal problems and fines might result from inaccurate records.
HR Burnout: Human resources professionals are frequently swamped with a mountain of administrative and reconciling work, which leaves them with less time for more important strategic HR responsibilities.
Enter CloudApper AI TimeClock
The CloudApper AI TimeClock is a game-changing tool for keeping tabs on how much time different employees spend on various tasks. It's more than just a timekeeping system; it's fully compatible with UKG Human Capital Management tools like Pro, Ready, and Dimensions. The approval of timecards is simplified and streamlined by CloudApper AI TimeClock as follows:
1. Streamlined Employee Time Tracking
CloudApper AI TimeClock streamlines the timekeeping process for businesses of all sizes and industries. CloudApper AI TimeClock's UI is simple and straightforward, regardless matter whether a user is on an iOS or Android tablet. When an employee has more than one job or responsibility, it can be difficult to keep track of their time spent on each one.
2. Accurate Time Recordkeeping
Payroll reconciliation relies heavily on precision. To retain accurate time records, CloudApper AI TimeClock employs cutting-edge technologies including face recognition, PINs, barcodes, QR codes, and NFC. There will be no more error-prone data entering or computations.
3. Efficient Leave Management
CloudApper AI TimeClock streamlines the process of accruing leave for full-time workers. It keeps a precise tally of leave balances, streamlining the process by which HR departments handle requests for time off and checking for adherence to leave policies and laws.
4. Reduced Payroll Reconciliation Time
CloudApper AI TimeClock's ability to drastically cut down on payroll and accrual reconciliation time is one of its most notable advantages. The solution helps human resources collect precise data for payroll processing by automating time monitoring across numerous job responsibilities. As a result, there will be fewer mistakes, faster payment, and happier workers.
5. Employee Self-Service
CloudApper AI TimeClock gives workers more control by allowing them to do routine tasks independently. They have easy access to their own time sheets, requests for time off, and HR regulations and procedures. It's a win-win for both the HR department's efficiency and the workers' satisfaction.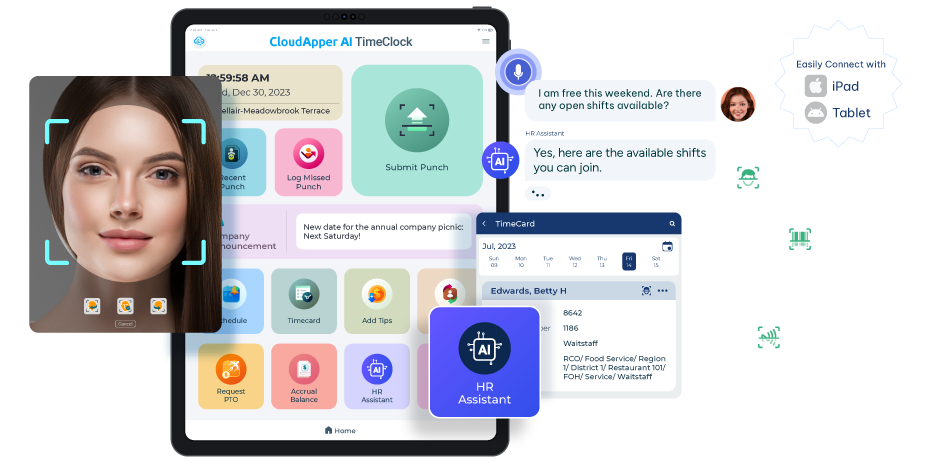 6. AI Assistant for HR Service Delivery
Envision a digital helper that is always ready to respond to inquiries from employees about HR. The AI assistant in CloudApper AI TimeClock provides employees with timely and reliable information on HR-related topics including rules, benefits, compliance, and more. Employee happiness is increased, and the HR department's workload is lightened, thanks to this real-time data access.
The Cost-Saving Advantage
CloudApper AI TimeClock is not only a more accurate and efficient timekeeping solution, but also a more affordable one. Costly hardware, regular maintenance, and costly payroll mistakes are common with conventional time clock systems. CloudApper AI TimeClock, in contrast, charges only a low monthly membership price and none of the usual extra expenditures for hardware, installation, and upkeep. It's a practical strategy that doesn't break the bank for companies of any size.
Embrace the Future of Payroll Reconciliation
Payroll reconciliation must be fast and accurate in today's fast-paced corporate world. The future of human resources is here, and with CloudApper AI TimeClock, you can get there quickly and easily. CloudApper AI TimeClock allows your HR department to concentrate on high-level projects while still paying employees on time and accurately by connecting with UKG HCM solutions.
Don't allow keeping track of your time between several jobs and responsibilities hold you down. Adopt CloudApper AI TimeClock and see how it may streamline your payroll process, increase productivity, and please your staff. The moment has come to modernize your HR procedures in preparation for a more productive tomorrow.