Accurate and comprehensive overtime work reports play a crucial role in managing workforce productivity and labour costs for businesses. As a UKG customer, you may have experienced the need to generate such reports using UKG solutions. Navigating various parameters, configuring custom reports, and exporting the data can be time-consuming and complex. However, with the innovative CloudApper AI TimeClock, managers can now effortlessly access employees' overtime data from the dashboard, streamline workforce management and make data-driven decisions. This article aims to guide UKG customers through the process of generating overtime worked reports from UKG TimeClock and how CloudApper AI TimeClock offers a simpler, more efficient, and user-friendly solution.
Generating Overtime Worked Report from UKG TimeClock:
To generate overtime work reports in UKG TimeClock, users must create custom reports and data views within UKG solutions. The first step is to learn how to create these custom reports and data views in the system. To do this, users can attend instructor-led classes provided by the UKG community through university classes. These classes will help users understand the process and enable them to focus on the specific type of reports and data they want to include in their overtime worked report.
Access UKG TimeClock: Log in to your UKG TimeClock using your credentials to begin the report generation process.

Navigate to Reports: Once logged in, navigate to the "Reports" tab on the dashboard. Here, you can access various reporting options available in the system.

Select Timecard Report: Click on the "Timecard Report" link to generate a comprehensive report of all timecards for the selected date range.

Configure Report Settings: In this step, set the desired date range for generating the overtime report. Under "Advanced Filters," select "Overtime" from the "Category" drop-down menu to focus specifically on overtime hours.

Generate the Report: Click "Generate Report" to obtain the report. The generated report will display all hours worked during the selected date range that qualify as overtime. You can export the report to a preferred file format, such as Excel or PDF, using the "Export" button.
The Challenge Of Generating Overtime Worked Report
While UKG TimeClock provides the necessary tools to generate overtime work reports, many users find this process complex and time-consuming. Navigating various settings and customizing reports require extensive training and experience. Additionally, users may face limitations when attempting to automate the report generation and distribution process, leading to inefficiencies and delays in accessing critical workforce data.
CloudApper AI TimeClock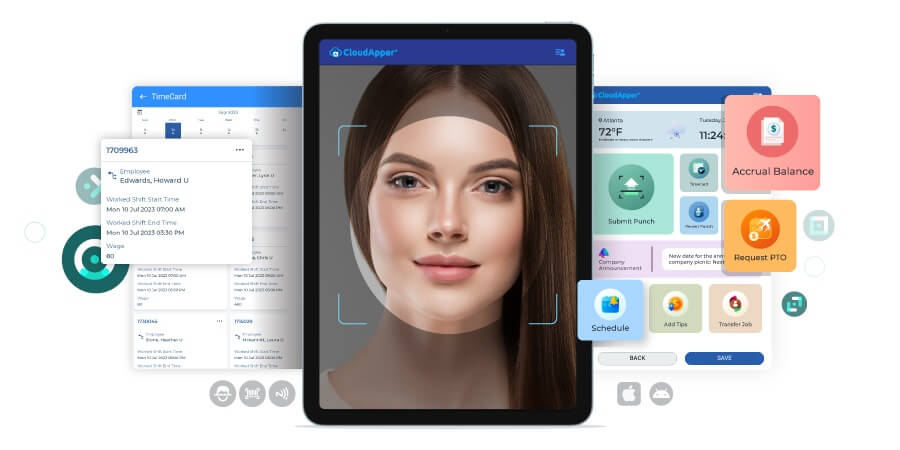 CloudApper AI TimeClock revolutionizes the process of time tracking for UKG customers. CloudApper's revolutionary AI TimeClock for UKG transforms workforce management and is easily customizable to meet unique requirements. Our AI-powered time capture solution for UKG works with any iOS or Android tablet for employee punch submissions, self-service, and more – creating a versatile solution for optimizing workforce management. Unlike UKG TimeClock, CloudApper AI TimeClock offers an intuitive interface with various widgets on the dashboard that are readily available. With just a few clicks, managers can access the overtime module on the dashboard and effortlessly check the overtime data of employees tailored to their specific needs. The platform's user-friendly design eliminates extensive training, enabling managers to quickly check insightful overtime data without generating any overtime reports.
Moreover, CloudApper AI TimeClock goes beyond time tracking. With the CloudApper AI TimeClock dashboard, employees can quickly request paid time off (PTO), view their time cards for accurate tracking, add tip details for transparency, and perform various tasks efficiently. This enhanced user experience fosters employee engagement and satisfaction, increasing productivity and job satisfaction.
Conclusion
Generating accurate and timely overtime work reports is essential for effective workforce management and informed decision-making. While UKG TimeClock provides the necessary tools for generating such reports, it can be time-consuming and complex for users to navigate various settings and parameters. With CloudApper AI TimeClock, UKG customers can efficiently access comprehensive overtime worked data from the dashboard, save valuable time, and focus on strategic initiatives for organizational growth. Unlock the power of streamlined time tracking with CloudApper AI TimeClock today and experience unparalleled efficiency in your workforce management. Elevate your workforce management experience with CloudApper AI TimeClock and empower your organization to thrive. Contact us today to learn more.