UKG Dimensions offers a robust time and attendance solution for organizations focusing on optimizing workforce productivity and ensuring accurate payroll processing. The solution works with time capture devices like traditional, expensive time clocks. However, thanks to CloudApper AI Time Clock, UKG customers can even use any Android or iOS device, such as iPads and inexpensive tablets, as time capture devices along with custom features. Having said that, let's explore why organizations want other options besides traditional time clocks and how CloudApper AI Time Clock serves as the perfect employee time capture system for UKG Dimensions, offering a reliable and cost-effective alternative.
Why Organizations Want Alternatives to Time Clocks
Traditional time clocks have been a staple in employee time tracking for decades. However, they might come with limitations that can hinder efficiency and cost-effectiveness for some organizations. Some of these limitations include:
High Costs: Time clocks can be expensive to purchase, install, and maintain. The initial investment and ongoing expenses can strain a company's budget, especially for smaller businesses.
Limited Customizations: Time clocks often lack flexibility and customizability, making it challenging to adapt to specific business needs and workflows. Organizations may need to compromise on certain features or processes, impacting overall efficiency. Some organizations require a more significant deal of flexibility and customization options.
As a result, many organizations look for alternatives to traditional time clocks – something that CloudApper AI Time Clock can help with!
CloudApper AI Time Clock – The Ideal Employee Time Capture System for UKG Dimensions
CloudApper AI Time Clock is the perfect employee time capture solution for UKG. The custom solution addresses the limitations of traditional time clocks by offering a versatile and cost-effective solution – here's why it's the perfect choice for UKG Dimensions users:
It Works With Any Android/iOS Device
CloudApper AI transforms any Android or iOS device into an affordable and customizable "time clock." As a result, UKG customers can easily leverage existing smartphones or tablets, eliminating the need for expensive dedicated time clock hardware. Moreover, even for new customers looking for time clocks for UKG Dimensions, CloudApper AI Time Clock is far more cost-effective and customizable than regular time clock devices.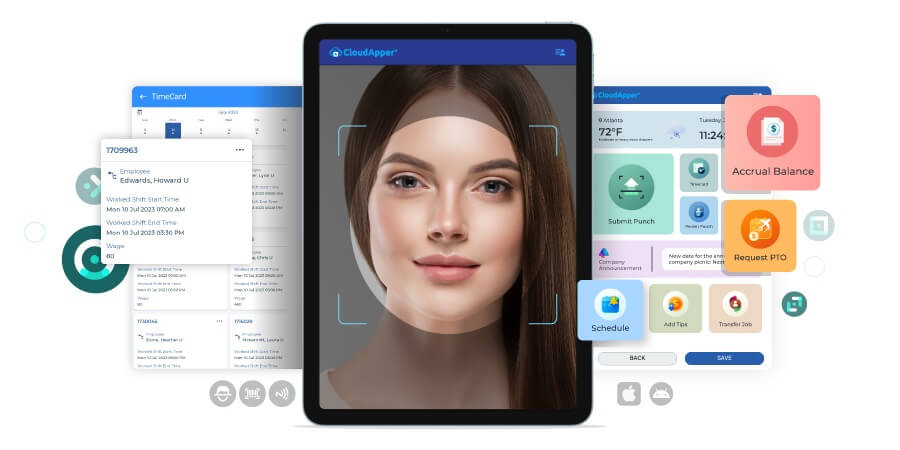 Easy Customizations
CloudApper AI Time Clock also provides extensive customizability to suit specific business requirements. From employee self-service features to custom data capture for job transfers and tip recordkeeping, CloudApper AI Time Clock can easily support UKG customers with their unique business requirements.
Employee Self-Service Capabilities
As mentioned, CloudApper can help UKG customers by improving employee engagement using easy-to-use employee self-service (ESS). With CloudApper AI, employees can manage shifts, submit PTO requests, access timecards, check accrual balances, and do so much more through a user-friendly interface – reducing administrative burdens on HR teams and eliminating redundant processes.
Verify Employee Identities
CloudApper AI Time Clock offers various employee verification methods via face biometrics, QR codes, barcodes, NFC, and PINs. Verifying employee identities prevents time theft and buddy punching – ensuring accurate time records for payroll processing.
Seamless Integration with UKG
CloudApper AI Time Clock works not only with UKG Dimensions but also with UKG WFC and UKG Ready – making it perfect for UKG software. CloudApper AI ensures real-time data synchronization with UKG and eliminates manual data entries and errors.
Conclusion
Choosing the right employee time capture system is crucial for optimizing time and attendance management. CloudApper AI Time Clock offers a reliable, cost-effective, and customizable alternative to traditional time clocks for UKG Dimensions users. With its extensive features, employee self-service capabilities, easy customizations, and seamless integration with UKG software, CloudApper AI Time Clock empowers organizations to streamline time-tracking processes and enhance workforce management. Contact CloudApper AI today to customize your UKG time capture experience by turning inexpensive Android/iOS devices into UKG time clocks using our AI Time Clock.