Time clocking system that is both reliable and flexible is a must in today's dynamic workforce management environment, regardless of a company's size or industry. Kronos, Inc. (a.k.a UKG) is a global leader in human resource management and time and attendance solutions. CloudApper AI Timeclock, on the other hand, is quickly becoming a game-changer for UKG (previously Kronos) customers looking for a more versatile, user-friendly, and affordable Kronos time clock system option.
A High-Level Overview of the Kronos Time Clock System
For many years, Kronos has been the go-to for time and attendance software. Their timekeeping methods have been widely adopted by corporations throughout the globe. Biometric identification, badge-based punching, and touch-screen user interfaces are just some of the advanced capabilities available in Kronos time clocking system. Timekeeping has traditionally been handled using such methods in an effort to standardize procedures and boost efficiency. Kronos time clocks have proven effective, but the introduction of AI-driven technologies has given organizations additional options for adaptability and customisation.
CloudApper AI – The Future of Kronos Time Clock System
The innovative CloudApper AI Timeclock for Kronos streamlines employee management via the use of artificial intelligence and automated processes. CloudApper AI Timeclock is a cutting-edge replacement for the conventional Kronos timekeeping system, with a host of benefits including increased adaptability, productivity, and worker satisfaction.
CloudApper AI Timeclock vs Traditional Kronos Time Clocking System
Multiple Time Capture Methods
Time may be captured in a variety of ways, including through badge-based punching and biometric identification, which aren't available on traditional Kronos time clock systems. CloudApper AI Timeclock, on the other hand, has a ton of different ways to collect time, such as QR codes, barcodes, facial ID, and NFC. Because of this, companies may pick the strategy that works best for them, resulting in a more streamlined and personalized experience for workers and managers alike.
Accessibility and Mobility
Because Kronos time clocks are so large and cumbersome, they can only be used in a few fixed locations. CloudApper AI Timeclock, on the other hand, can be used on any tablet with an Android or iOS operating system, giving organizations better portability and convenience. Staff members can utilize the software on tablets stationed at access points or workstations to streamline the clock-in/clock-out procedure.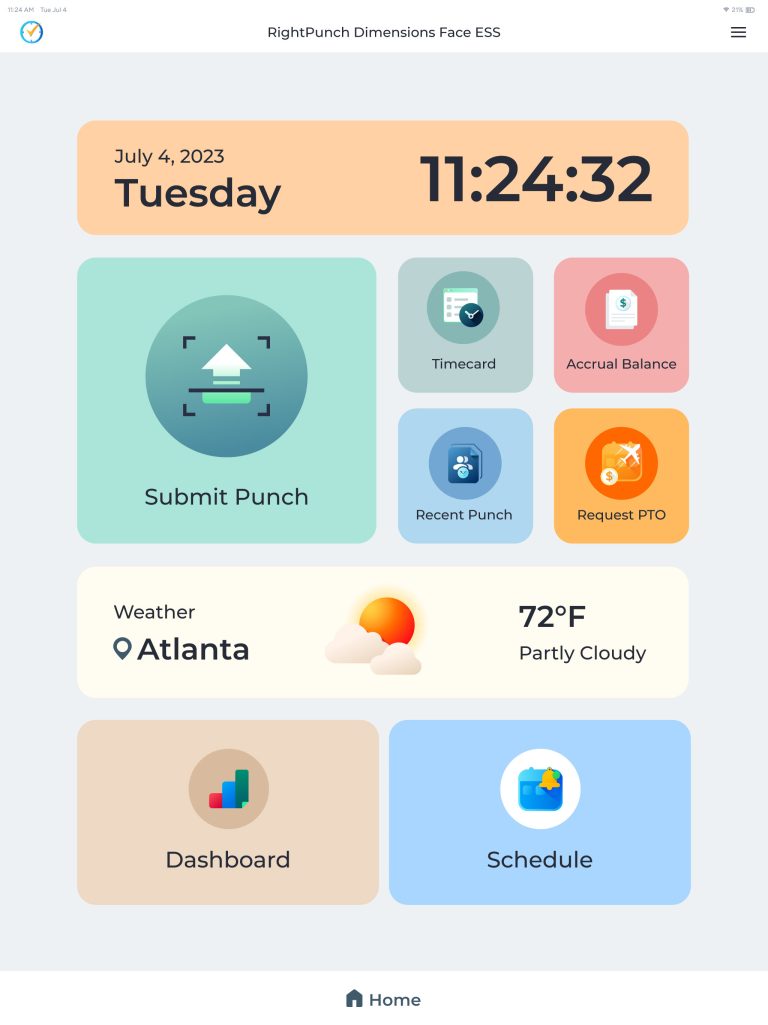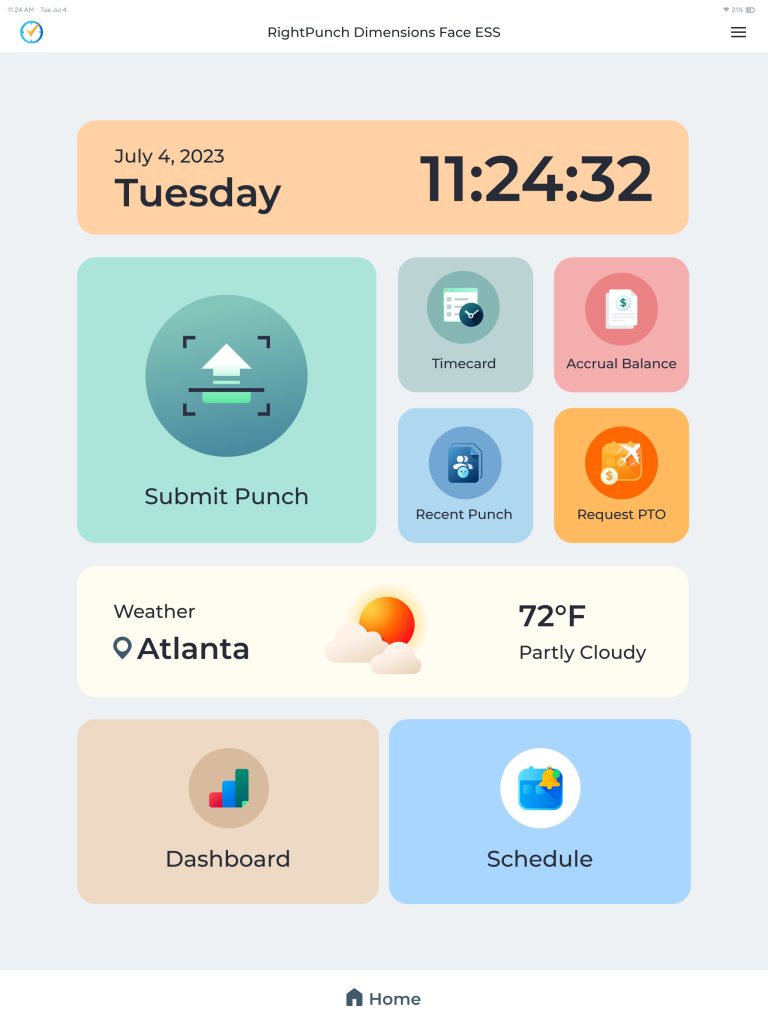 AI Powered Employee Self-Service
CloudApper AI Timeclock does more than just track time. This AI powered time clock system allows employees to receive automated notifications, make shift cover requests, request PTO, monitor their work schedules, check their timecards, and view their vacation and other benefit accrual balances. This gives employees more say over their schedules and increases their sense of ownership in the workplace.
Seamless Data Exchange
For effective and efficient workforce management, it is essential that time clock data be seamlessly exchanged with HR and payroll systems. CloudApper AI Timeclock allows for smooth integration between UKG Pro (Kronos), Ready, and Dimensions, whereas standard Kronos time clocks can only interact with one single Kronos software. This guarantees continuous up-to-date information with no need for human intervention or error-prone data rekeying.
Cost-Effectiveness
CloudApper AI Timeclock is an affordable option for enterprises in need of an up-to-date kronos time-tracking system. CloudApper AI Timeclock is a more cost-effective alternative to standard Kronos time clocks for enterprises of any size since all it requires is a simple monthly fee and it can be run on inexpensive tablets.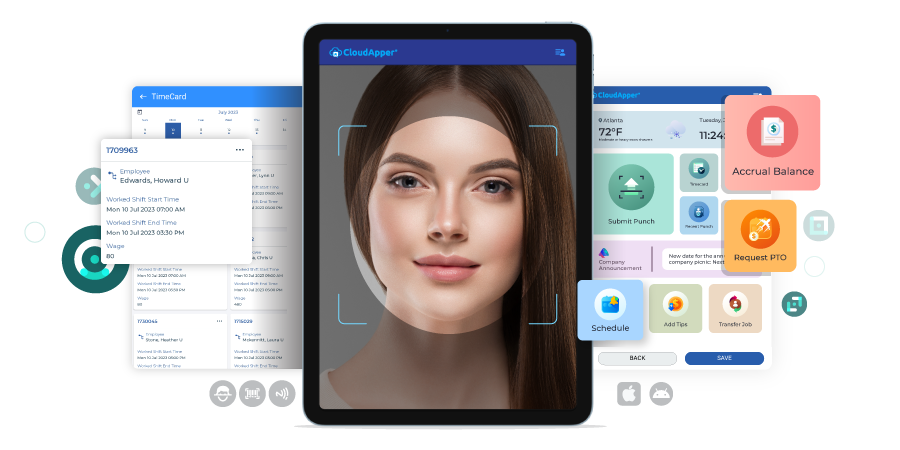 The Benefits of Using CloudApper's AI Time Clock
CloudApper AI Timeclock is an innovative, user-friendly, and affordable option for improved workforce management that Kronos customers can take advantage of now. Businesses may save time and effort on time tracking, employee engagement, and other HR tasks by implementing automation and AI solutions.
Traditional Kronos time clocks have their limits, but cutting-edge technologies like CloudApper AI Timeclock may help organizations overcome these obstacles and realize their full potential. The ability to easily integrate with UKG Pro, Ready, and Dimensions gives organizations the adaptability and scalability they need to thrive in today's fast-paced business climate.
Conclusion
CloudApper AI Timeclock presents a compelling alternative to conventional Kronos time clock systems as organizations seek to improve the efficiency and accuracy of their workforce management procedures. CloudApper AI Timeclock allows organizations to improve their time-tracking workflows and release the full potential of their workforce by providing flexible time collection techniques, employee self-service capabilities, seamless data interchange, and cost-effectiveness. Choosing CloudApper AI Timeclock is a forward-thinking strategic move that puts companies at the front of innovation and success in an industry where AI-driven technology is shaping the future of human capital management.
Choose CloudApper AI Timeclock Right Now to Start Leveraging the Power of AI in Your Timekeeping!